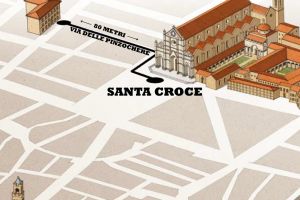 From March 31, 2010 is activated agreement between the Opera di Santa Croce and the Casa Buonarroti Museum.
In the name of Michelangelo is a project that, by combining two of the symbols of the life of the great artist, it is proposed to accompany the visitor in the journey of discovery of Michelangelo in Florence, in his life and until his consecration extreme immortal artist. The visitor has the possibility, buying a combined ticket at a reduced price of € 8.50, visit the Casa Buonarroti and the complex of the Basilica of Santa Croce. The ticket is valid, according to the days and times of opening up their sites, until the next day compared to that of issue.
This combined ticket is independent from other forms of ticketing currently active in Santa Croce including reductions and gratuity.
LINK: www.casabuonarroti.it